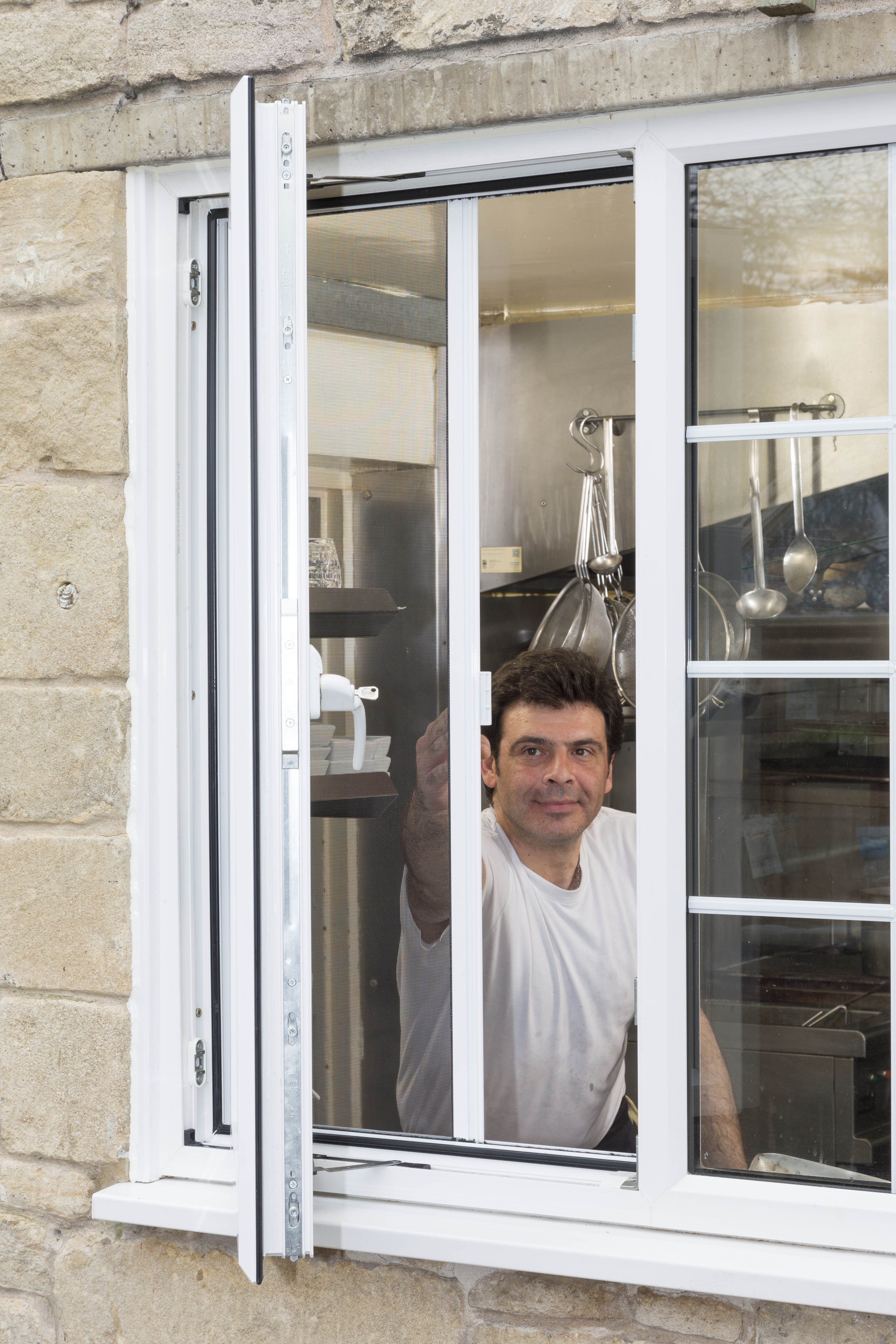 If your business prepares or serves food for the public, you are required by law to uphold good food hygiene practices including protection against insects.
Fly screens are a vital part of food hygiene for food preparation and service businesses as they help to prevent bacteria and microorganisms transmitted by insects from contaminating food, reducing the risk of food poisoning to your customers and protecting your business' reputation.
Our DIY fly screens suit a variety of commercial applications and provide superior insect protection when compared to fly curtains and chains as the mesh is held firmly inside the cassette preventing insects from entering around the edges and ensuring an insect free working environment.
Restaurants, canteens, cafés, snack bars, hotels and pubs
For commercial kitchens, the Food Standards Agency Guidelines (FSA) state that, "Windows and other openings (e.g. doors) that can be opened onto the outside must be fitted, where necessary, with insect-proof screens that can be removed easily for cleaning." Our screens are ideal for this type of application as they are easy to remove and take apart for cleaning. In addition, the retractable design allows staff to open and close the screens for easy access to outdoor areas.
Residential homes, schools and nurseries
Insect screens are particularly important if you are providing food to vulnerable groups such as children or the elderly, as they can be more seriously affected by food poisoning than other groups. Fly screens can also be used in areas other than those reserved for food preparation to help to prevent insect transmitted illnesses and allergic reactions caused by bites.
Private houses used for a food businesses
DIY fly screens are ideal for use in home businesses as they offer maximum insect protection with minimum effort. The screens are cut to size for you so that when they arrive, all you need to do is click the four sides together and stick the screen to your window or door frame using the super strong adhesive strips. The screens are also designed to blend in with white uPVC windows and doors allowing you to maintain the look of your interior whilst still complying with food hygiene standards.
Insect protection is a vital part of ensuring that your business is on the right side of the law when it comes to food hygiene. To find out more about current legislation and advice, visit the FSA website at www.food.gov.uk.
For more information about DIY fly screens and whether they will be suitable for your business, please email [email protected].